We are committed to international best practices of excellence and ethical business conduct. Our operations and services are guided by principles that not only give our clients satisfaction, but also make our team the most valued in the industry.
Competence
We boast of a team of evaluators and researchers that is self-motivated and highly experienced.
Partnership
Believing that the sum of the whole is greater than the sum of the individual parts, we are convinced about establishing beneficial partnerships that can solve global challenges.
Integrity
We are truthful, sincere and transparent with our clients. We carry out all engagements with utmost consideration for ethical principles and global best practices.
Communication
This is at the core of our beliefs. We are open with clients, we share with clients every aspects of our engagements, from the beginning to project completion. Even more, we maintain a strong team bond.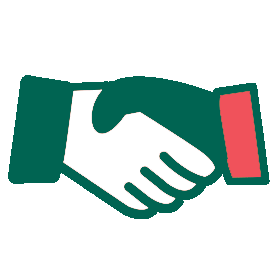 Respect
We promote excellence at all levels by fair treatment of all our clients, our team, human subject participants and community where we conduct our activities.
Michael Falade is a development researcher and evaluation professional with years of work experience on various DFID and other international organisations funded research projects for sub-Saharan Africa. Michael is interested in policy-centered interventions focusing on agriculture, public health, governance, social issues and in development intervention evaluations. Michael also has experience in a public policy.
Josiah Aramide is a development policy expert and scientist with a combined experience of over ten years in both fields. Since 2010, he has helped organizations find solutions to governance and policy issues in agribusiness value chains, energy & infrastructure, trade & commerce, and other related sectors. This entails establishing linkages and partnerships among diverse stakeholders; supporting scale-up and replication of best practices; encouraging learning and adaptation; and facilitating stakeholders to outline, agree and implement strategies for addressing policy constraints. Prior to this, his work focused on oil and gas; environmental research and climate analysis.